First off, if you're expecting: Congratulations!  Your life is about to be changed forever.
If you're like me, you are going to search and search through a bajillion different lists of names for your child(ren) until you land on that perfect one. I'm hoping that you are now about to read your last list of baby girl names, as you will find that perfect name on this here list! It's time to commit to a name already.
By the way, these baby girl names are powerful, and have very beautiful meanings. I hope you love them as much as I do!
Oh wait, you have to read the list first! Comment down below which name(s) is your favorite or if you have one you'd like to share!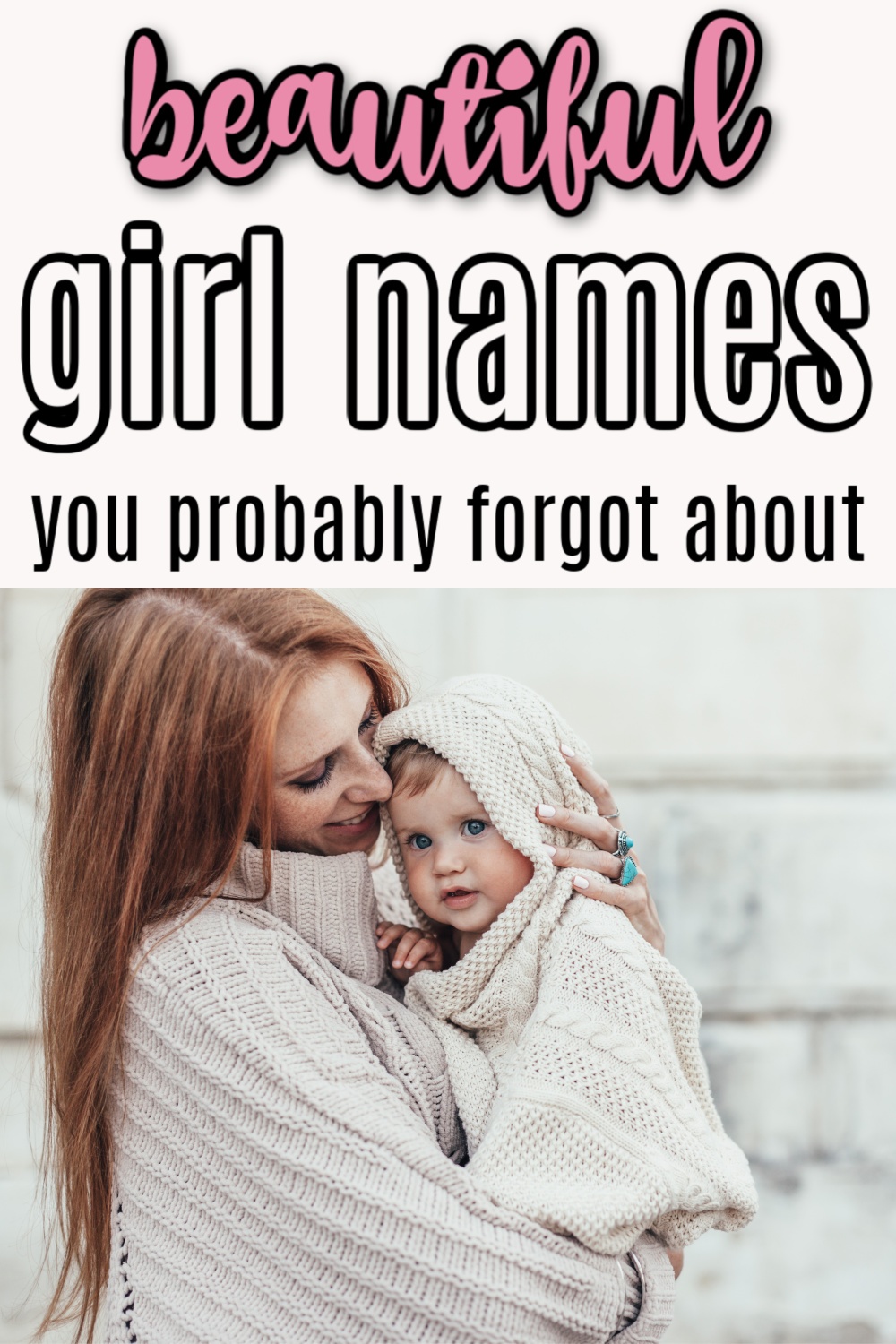 HOLD UP! Before we start, make sure to grab your copy of the Newborn Planner Bundle, which includes a hospital bag checklist, a newborn checklist, and checklists for postpartum supplies. You can also grab the Baby Tracking Bundle, which includes trackers for your baby's sleep and feedings, as well as check off the essentials before getting them to sleep.
Expecting a boy? Don't forget to checkout this list of RARE and STRONG baby boy names.

Abigail is Hebrew, and means "father's joy."

Amelia is German, and means "work." This name is more on the popular side, but I wouldn't say it's "overused." This is one of my favorites.

Ana (ah-nah) is the Spanish version of Hannah, meaning "grace." I am surprised that this name isn't more popular because of the movie "Frozen," but it's not used very often.

ARIA is Italian. Aria means "air," or "song," or "melody." Wow, that's really sweet + such a beautiful name.

Ariella. This name comes from the name "Ariel," which is Hebrew. Both names mean "lion of god." I really like this one and wish I came across it when we were picking out names for my daughter.
THE COMPLETE LIST OF MUST HAVE ITEMS FOR YOUR NEW BABY

Aubrey is the French version of ALBERIC, meaning "elf ruler."

Aurelia (Au-rail-lee-ah) Latin origin, meaning "the golden one." Aurelia is very very unique, so if that's what you're looking for, this might be the name for your baby.

Aurora is Latin, meaning "dawn."

Ava is Latin and means "life."

Brianna is the female version of Brian, meaning "strong, virtuous, and honorable."

Briella: Hebrew origin, meaning "God is my strength."

CAMILA: Latin origin, meaning "young ceremonial attendant."
HOW TO SLEEP TRAIN YOUR NEWBORN TO GET THEM ON THE PERFECT SCHEDULE

CELIA: Latin origin, meaning "heavenly." This another name that is super rare!

CHARLOTTE: French origin, meaning "free man."

CHLOE: Greek origin, meaning "young green shoot."

CORA: Greek origin, meaning "maiden"

EDEN: Hebrew origin, meaning "delight."

ELENA: This name is Spanish, Italian, Greek, and German. It comes from the name Helen and means "bright, shining light."

ELLA: German + English origin, meaning "fairy maiden."

EVA: Hebrew origin, meaning "life."
TIPS FOR GETTING YOUR NEWBORN TO SLEEP FASTER

EVELYN: "Evie" or "Eve" for short (or not).

EVERLY: English origin, meaning "wild boar in woodland clearing." Interesting.

GABRIELLA: Italian, meaning "God is my strength."

GIANNA: Italian, meaning "the Lord is gracious."
Irelynn is an Irish name and means "peaceful lake" or "lake of peace."
BABY NAMES THAT START WITH "M"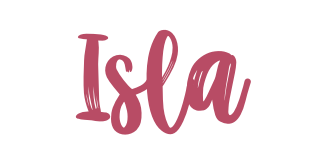 Isla (eece-la) or (eye-lah) is Spanish + Scottish, and means "island." Isla is a very popular name in England, Wales, and Scotland, however, in the states it is rare.

Lauren is the English version of "Laura," and means "bay laurel," and is Latin.
Lisie is a very unique name that is Spanish and means "Devoted to God."

Lora is the German version of "Laura," and means "bay laurel."

Mila is of Russian origin. The name "Mila" is becoming more popular in The United States, however, it isn't being overused. Yet.
TOP BABY NAMES OF THE PAST TEN YEARS

Nora is of Irish origin and means "light."

Riley is of Irish origin and means "rye clearing; courageous." This name used to be semi-popular, but every year it seems to be declining.

Rose means just that- "rose, flower." It is of Latin origin and I think it's really pretty.

Scarlett is of English origin and means "red, scarlett." This name is starting to become more popular.

Serena is Latin and means "tranquil," or "Serene."

Stella  means "star" and is of Latin origin.

Talia is another unique name that is of Hebrew + Australian Aboriginal origin, and means "gentle dew from heaven; by the water."

Tressa is as rare as it gets. It's of Cornish origin and means "third," which makes it the perfect name for the third child.

Valeria is of Latin origin and means "strength" + "health."

Vera (like Vera Wang) is of Russian origin and means "faith."
No matter what name you end up deciding on for your new addition to your family, it will fit perfectly!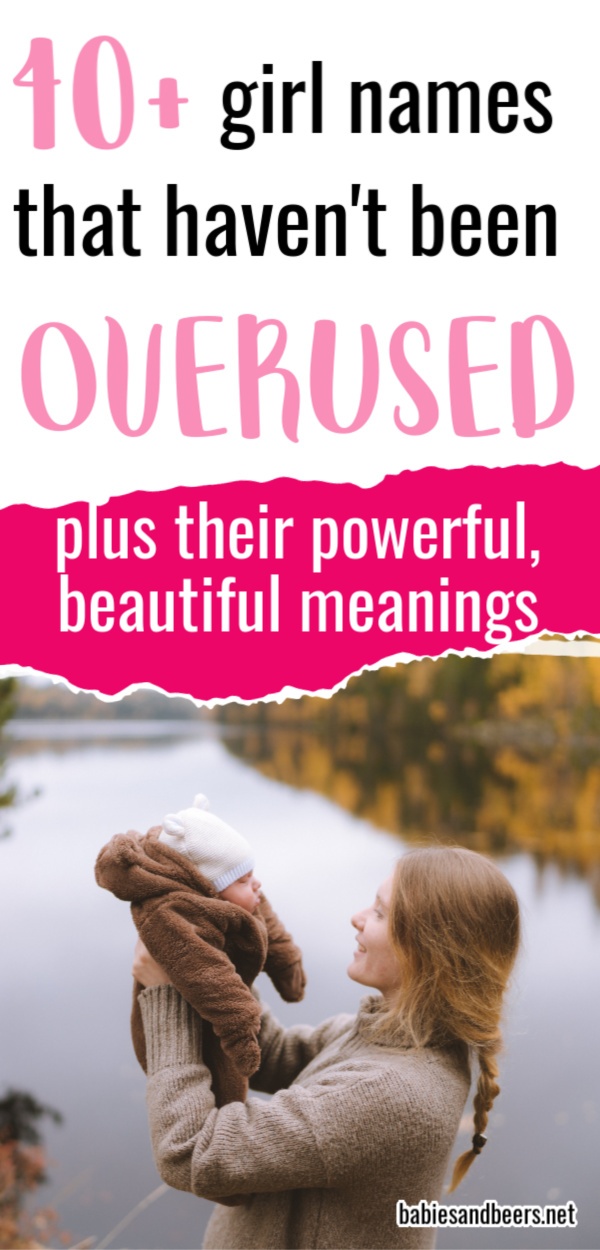 READ MORE FROM BABIES AND BEERS: