You have almost hit your Christmas shopping budget and you're only on your second family member. It happens, I may or may not be in the same boat as you. It's time you start thinking outside the box because you can not spend $50 on all 20 family members; I'm just not going to allow it, as it is just unnecessary. That's why you need this list of Christmas gift ideas for 2021!
Christmas isn't all about getting these huge, expensive gifts anyways. 
(As an Amazon Associate, I earn from qualifying purchases)
Your family and friends would actually really enjoy something more thoughtful than that $25 gift card to their favorite store; trust me on this one.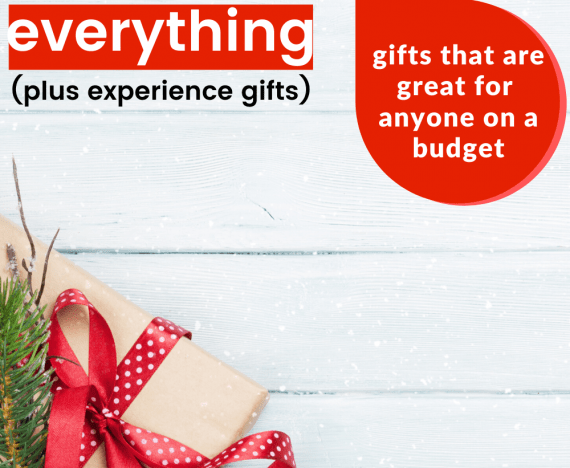 Handmade DIY Christmas Gifts for 2021. I make at least one gift every year because I always go over my Christmas shopping budget and I actually really enjoy making gifts (depending on what it is). Here are a few ideas for handmade gifts that I have tried and it has been a success for the receiver:
Photo Album: Whether you're just placing photos into a regular photo album or you're putting together an entire scrap book, this is something family and friends, who don't get to see you or your children as much, will love. I usually do something with photos each year for my grandparents, and last year, they told me that they actually look forward to their photo gift every year! Yay!! Here's a photo of one of the album's inside cover I did last year:
Glass Decoration: Ok, so two years ago I decorated two separate pieces of glass that I purchased from the dollar tree and then decorated them with nail polish, which you can watch a tutorial about that here. I was surprised with the way they turned out! I wish I had a photo of one that I did that I was so very proud of; it looked awesome! But here's a photo of a beer glass that I did:
Picture Coffee Mug: This isn't exactly handmade, but it's a great idea. I did this for my grandfather's birthday last year, and he loved it! You can go onto amazon here and customize how you want the coffee mug to look. It's really not expensive!
Homemade Cookies: This is a good way to produce many gifts (cookies) for many people without breaking the bank. Buy each person a cute little cookie tin (I'm sure the dollar store has these) to make their gift a little extra special! I mean, who doesn't looove cookies?!
Handmade Gift Basket: If you're someone who is really creative, now's the time to let your skills shine, and if you're not that someone, then you can still do this, too! Collect a bunch of candy or different types of nuts OR a cheap bottle of wine and make a gift basket. Pair the candy with a cheap movie, the nuts with cheese, and the wine with a pair of wine glasses (dollar tree) and there ya go! You have yourself with a beautiful, super thoughtful, gift basket! I want one!!
Cheap Christmas Gifts for 2021 You Can Buy that are $10 and Under:
Experience Gifts for 2021: I have read many articles recently explaining why "experience gifts" are so much more thoughtful than actual items, and people actually prefer these. It sounds like a good idea to me; I, for one, would probably rather tickets for my family to a local amusement park or the zoo.
A Cooking Class
Movies Passes
Waterpark Day Passes (Where I live, we have two indoor waterparks within an hours reach, and can I just say- indoor waterparks are just what we need when we're just so sick of the sun setting at 4:10pm and the 30-minutes it takes for our car's windshield to defrost).
Amusement Park Passes
Hotel Stay for Mom + Dad who can't ever seem to get a night alone (This is a MUST for new parents and veteran parents; I would def want this for my fiance & I).
Concert Tickets: Disney On Ice for the whole family or just tickets for Mom + Dad (Elton John is still on his two-year long worldwide tour, just sayin').
Music, Dance, Singing Lessons
Horseback Riding Lessons
Ski Lift Tickets and/or skiing/snowboarding lessons
Yoga Classes
Gym membership
Swim Lessons
Aquarium Passes