Choosing the right name for your baby can be so tough! Especially when everyone and their mothers have an opinion– and of course you want to value everyone's opinions, but you'll never be able to please them all. So, let's find the perfect name for your baby!
Here you will find a list of unique boy names and their cool meanings that will fit in so well in 2021! These rare baby boy names are strong and powerful, and I'm sure you and your family will love the name you choose forever.
This list of unique baby boy names is perfect for the new year, 2021. They are strong and masculine, as well as super rare and unique. All of these names come from different origins, making them that more special.
If you like and choose any of these names for your new baby boy, make sure to comment below to let me know which one you loved!
[THIS POST CONTAINS AFFILIATE LINKS WHICH MEANS I MAKE A SMALL COMMISSION AT NO EXTRA COST TO YOU]
(Having a baby girl? Click here for a list of beautiful baby girl names that haven't been overused!)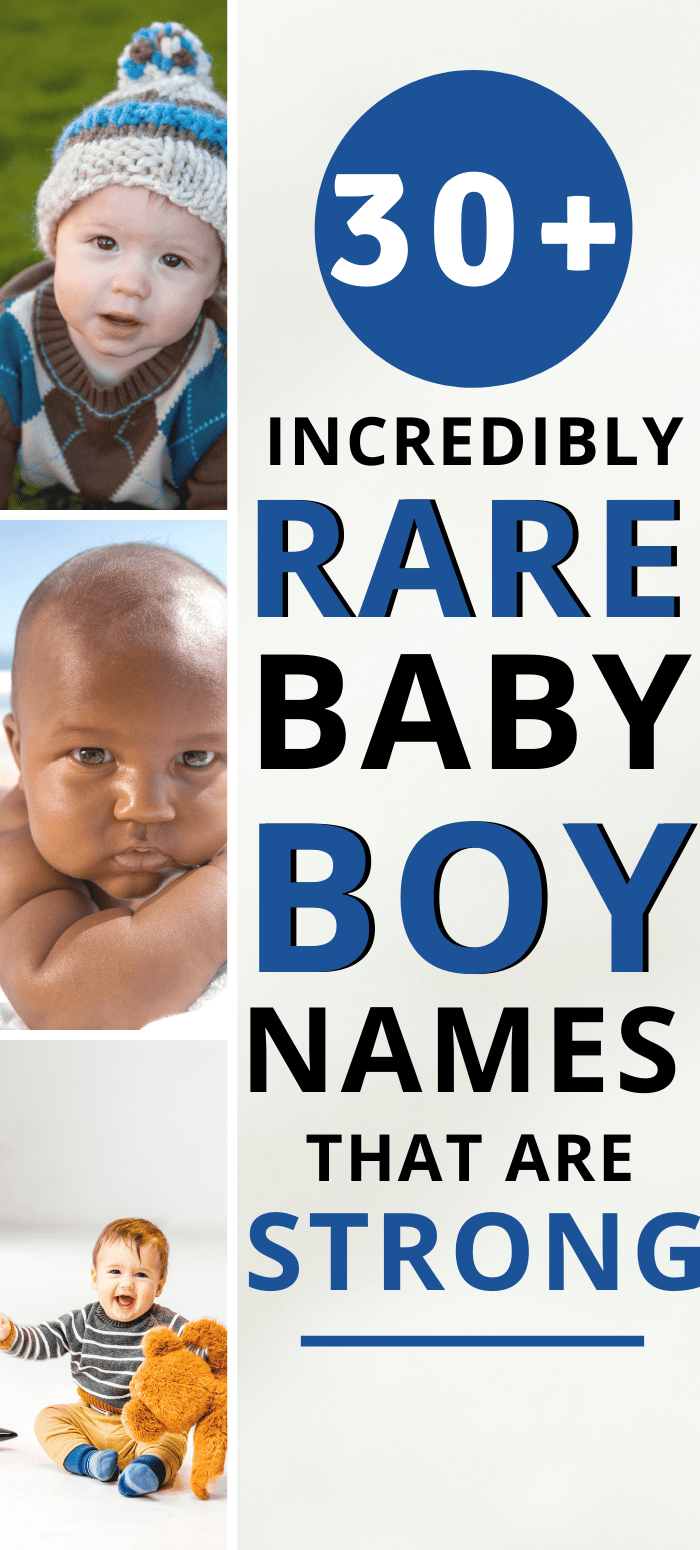 (NERVOUS about breastfeeding? Get enrolled in The Ultimate Breastfeeding Class here for easy-to-follow lessons and videos from the comfort of your home!)
AARAV: Aarav (ah-RAHV) is of Hindi origin and means "peaceful, calm, sound." It is the most popular name in India, but in the U.S., it isn't very popular at all. According to nameberry, Aarav comes from the Sanskrit root of "rav," which relates to music and peace. If you are a musically inclined family, this is definitely a great name to choose from! In addition, Aarav is connected to the concept of wisdom.
BJORN: Bjorn (BYORN) is of Swedish origin and means "bear." If you do pick this as your baby's name, you can carry your baby Bjorn in a Baby Bjorn. (Haha, get it?) Similar names to Bjorn that you might like are Bjarn, Bjornson, and Bjorne. The name Bjorn is very popular in Scandinavia, which is probably due to the professional tennis player that derived from Scandinavia, Bjorn Borg.
CASPIAN: The name Caspian comes from the "Caspian Sea." This name is hardly ever used in the United States. Names similar to Caspian are Kassian and Cassian. In case you weren't aware, the Caspian Sea is between Asia and Europe. The few people that name their child Caspian sometimes use the nickname Casper, which you'll either love or hate.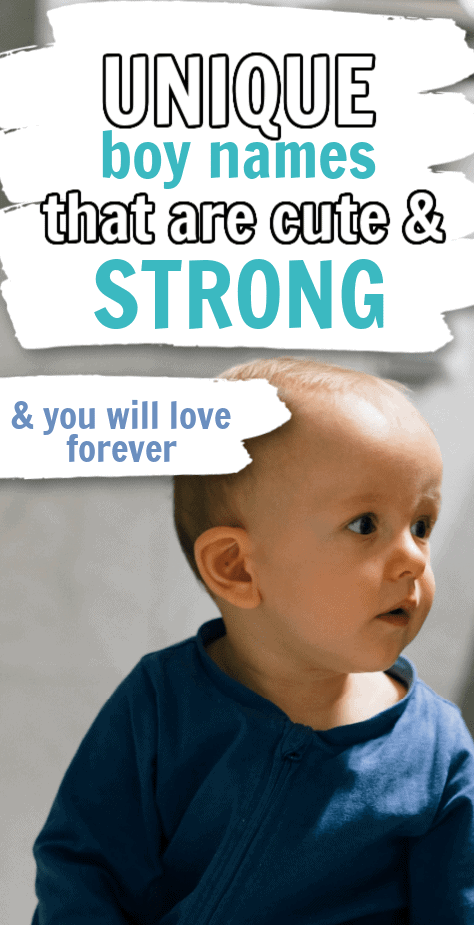 CATO: Cato is of Latin origin and means "all-knowing." The name Cato can be used as a boy's name or a girl's name. We may see Cato rise up in popularity in the future, as it was a character's name in the hit movies The Hunger Games. CATO is also an acronym used by the National Aeronautics and Space Administration, which means "Communications and Tracking Officer."
COEN: Coen is of Dutch origin and means "bold advisor." This name can also be spelled "Koen" and is popular in the Netherlands. Coen comes from the more traditional name in the Netherlands "Coeenrad."
First-time moms & Moms of young children should be sure to read my new E-Book: Taking on the Mental Load of Being "Mom!"  Click Here to buy it now for only $4.99
DEAN: Dean is an English name that means "church official." Dean is becoming more popular, but it is still uncommon to come across a Dean. The name Dean can be actually used as a girl's name, but it is very rare. If you're like me, then you fell in love with the name Dean while watching the hit ABC family series Gilmore Girls starring Alex Bledel and Lauren Graham.
DUKE: Duke is of English origin and is a very noble name. Once again, parents are using this name as a girl's name, however, it is super rare to come across a lady named Duke. The name Duke can be heard across many movies in the United States, including, She is the Man, Rocky, and Dukes of Hazzard.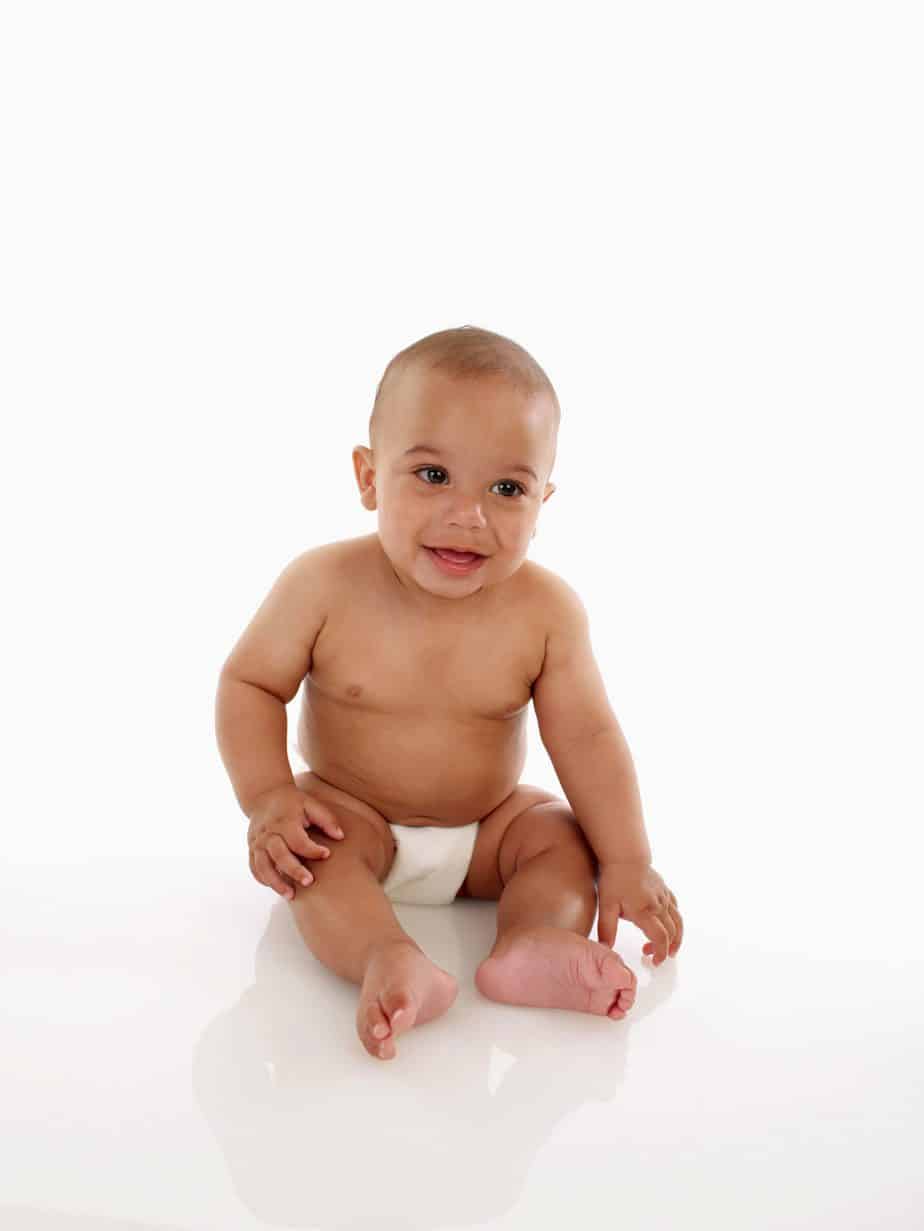 EDMOND: Edmond is of Dutch origin and means "wealthy protector." Edmond is a very sophisticated and old-fashioned name. Thanks to the Twilight movies, you might see Edmond making it's way back up the charts, as it is very similar to one of the main characters in the movies, Edward. 
ELLIS: Ellis, used as both a boy and girl name, is of Welsh origin and means "benevolent." Ellis can be spelled "Elis" and originates from the name "Elijah." You may recognize the name Ellis from the hit TV series Grey's Anatomy. Ellis is also a famous landmark, Ellis Island, an island in the New York Harbor.
EMERSON: Emerson is of German origin and means "son of Emery." This unisex name is becoming more popular as a girls' name, but still pretty uncommon for a boy. I personally love the name Emerson because it sounds traditional, but also bohemian. For instance, you could find an Emerson working in an office during the day, and then hitting some gnarly waves with his dudes immediately after.
FIN: Fin means "fair or white," and is of Irish origin. Fin is a variation of Finn, which according to nameberry, is "the greatest hero of Irish mythology, Finn MacCool (aka Fionn mac Cuumhaill), an intrepid warrior with mystical supernatural powers, noted as well for his wisdom and generosity."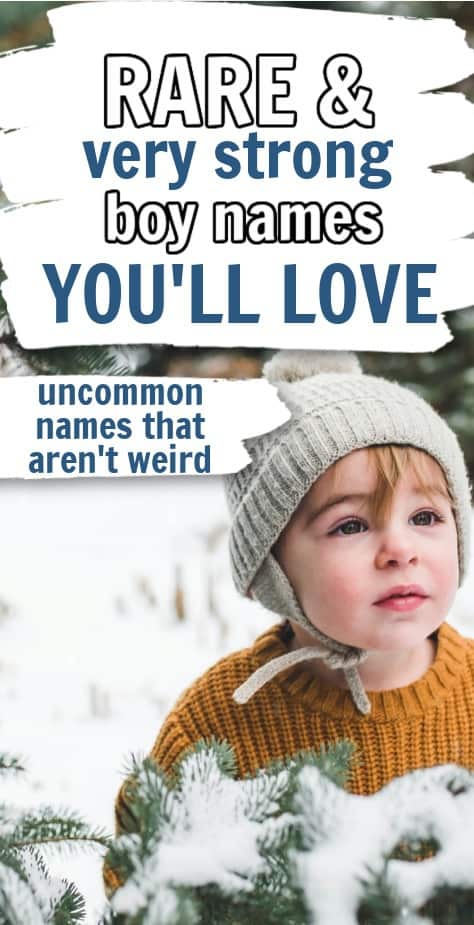 GRAY: The name Gray comes from the color gray and means "the son of the bailiff." This name is derived from the name Grayson, and it is sometimes spelled "Grey." The name Gray is very low on the popularity charts. However, we may see an increase since Christian Grey was created for the popular movie "Fifty Shades of Grey."
NIGHT: The name Night comes from the director M. Night Shyamalan. This name is definitely for you if you are dark & mysterious. This name is unisex and is not heard of very often in boys or girls.
JASPER: Jasper is of Persian origin and means "bringer of treasure." You may have heard this name for the first time in the Twilight movies or books, where one of the vampires holds the name Jasper very well. One of my nephews is named Jasper, and it's so easy to get used to if you're on the fence about it.
KOA: Koa is a Hawaiian name meaning "warrior." Koa is also the name of a native tree in Hawaii, and the wood from Koa trees are the most popular for making surfboards. I wanted to give my son a cool sounding Hawaiian name like this one, but my fiance wasn't for it.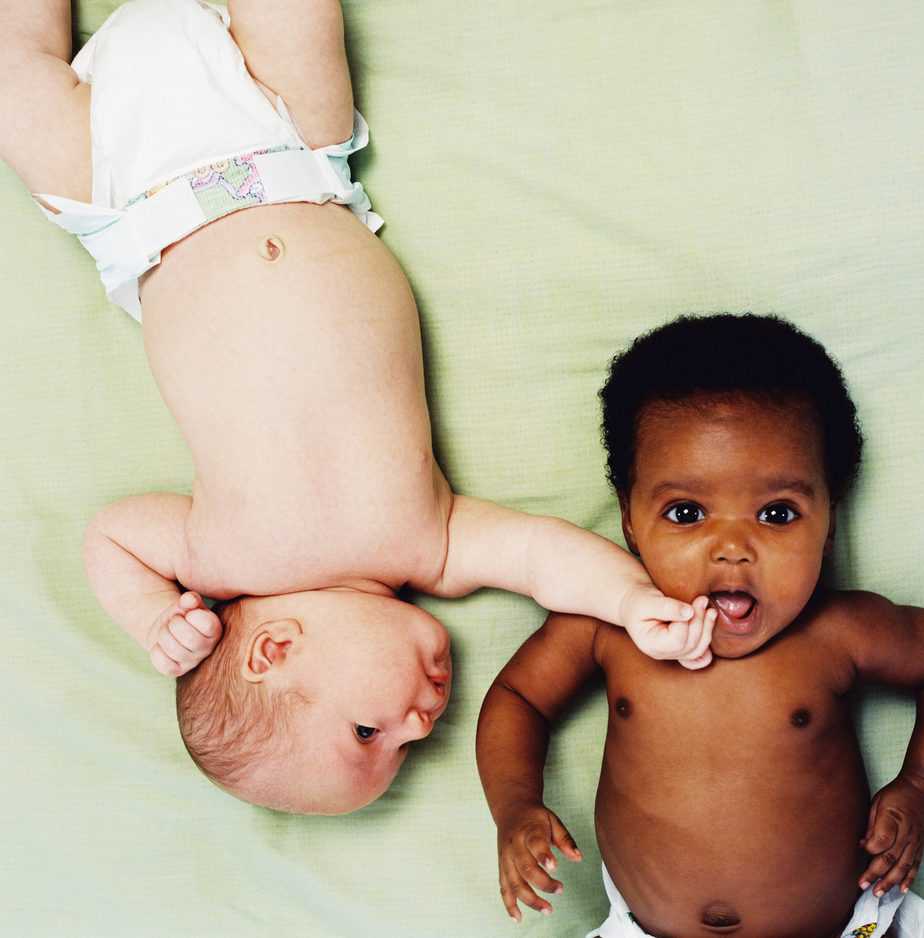 LEVI: Levi is a Jewish name and means "joined, attached."  When you think of the name "Levi" you may think of the popular song by Elton John called "Levon," or maybe it automatically makes you think of the brand of jeans, Levi. Either way, this is such a cute, cool, and traditional-sounding name for a baby boy!
WALT: The name Walt is a diminutive of "Walter" and is of German origin. Walt means "army ruler." I'm almost positive that the first thing you think of when you hear the name Walt is the world-famous "Walt Disney," creator of the Disney amusement parks.
WELLS: Wells is a very rare name and means "spring." I might be alone on this, but the first person I think of when I hear the name "Wells," is the bartender on the show "Bachelors in Paradise," which is a goofy reality TV show.
Click here for a list of popular baby names from the past decade.
MORE FROM BABIES AND BEERS:
Strong, Unusual Boy Names That You Forgot About {Plus Their Meanings!}